About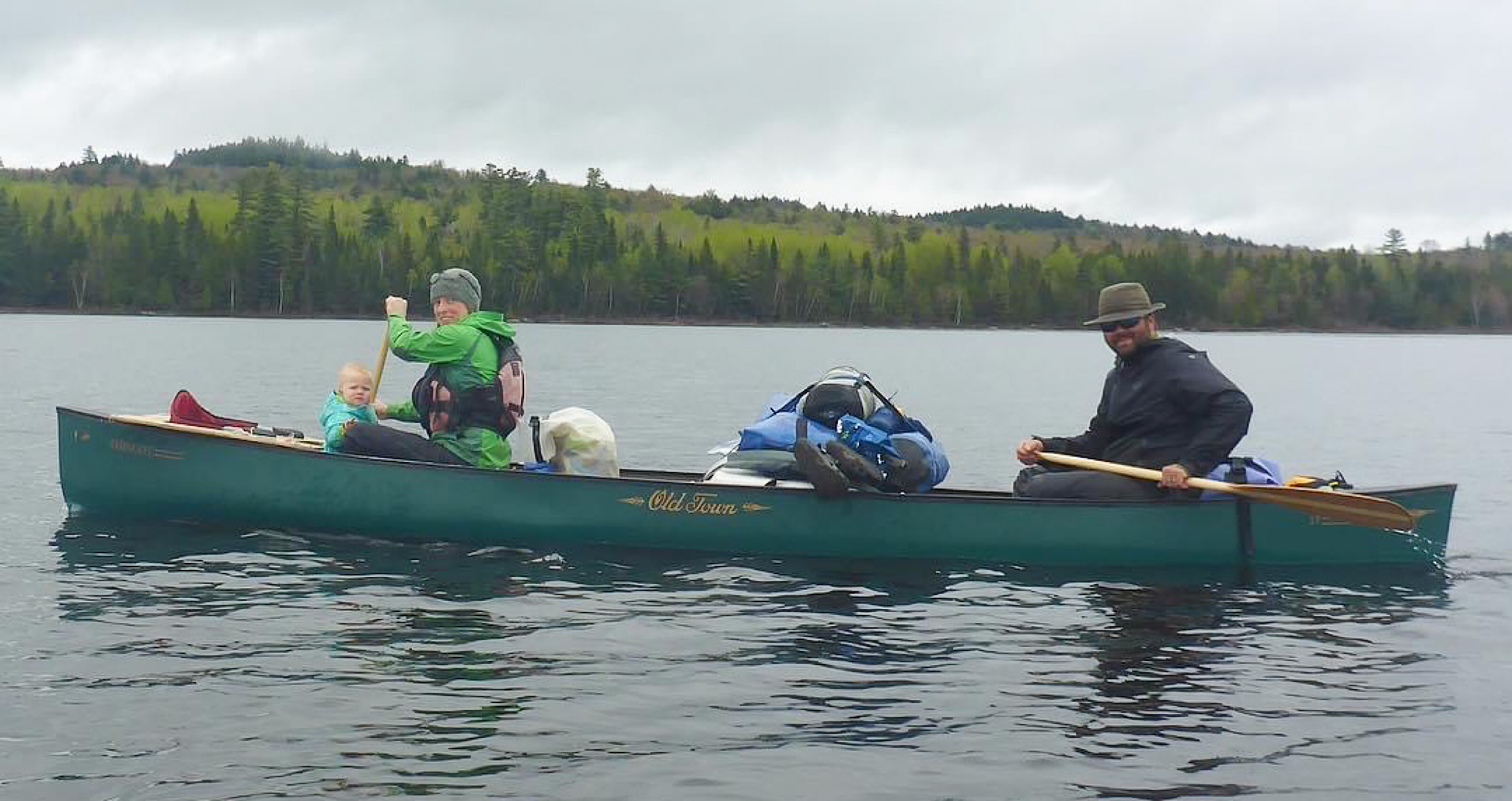 The Farmers
Keith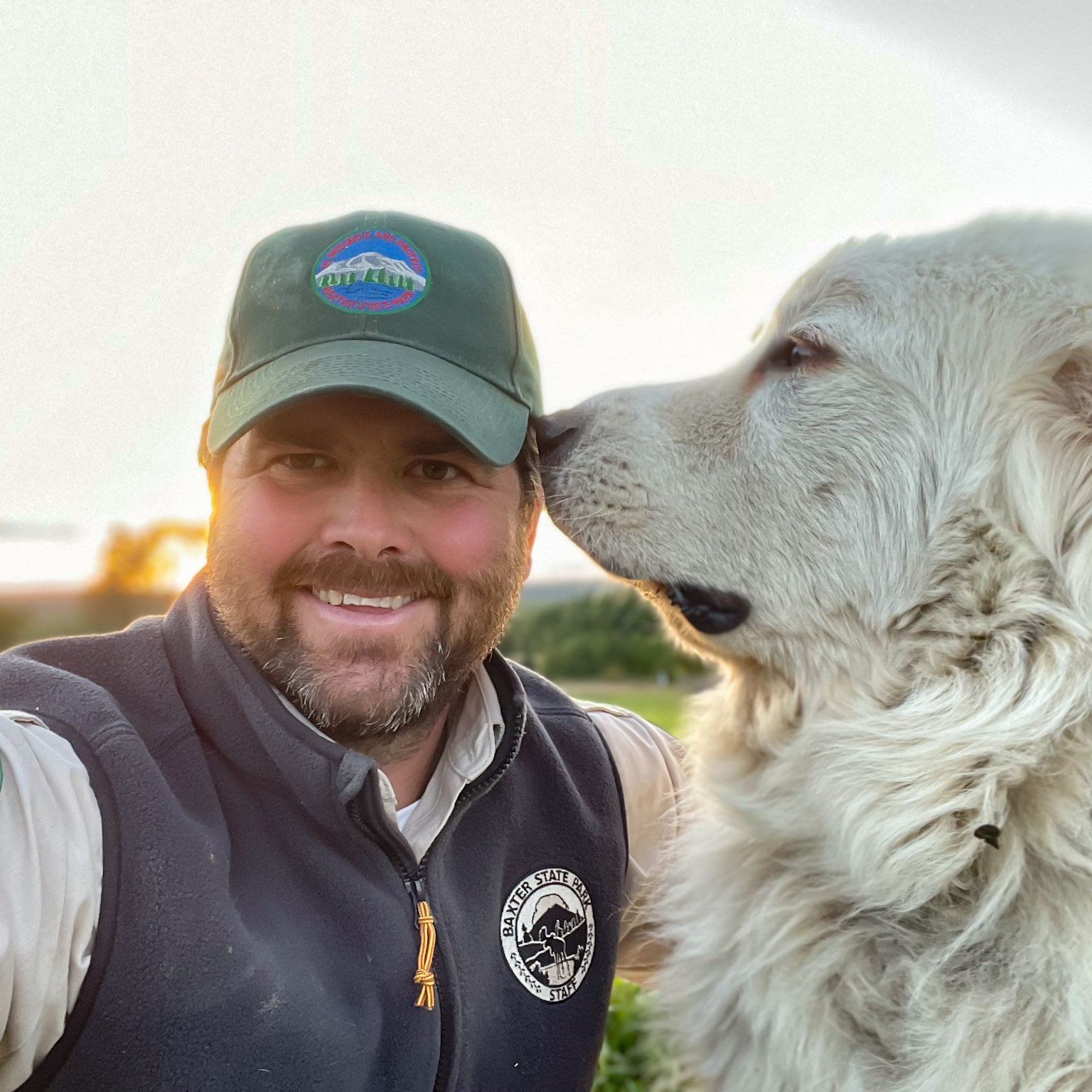 Keith grew up in Southern Maine. After high school, he began gaining carpentry experience in an eclectic mix of locations from Martha's Vineyard to Camden, N.J., and Western Pennsylvania to the Coast of Maine. After college and a brief stint as a journalist, he found his way to the alpine zone of the White Mountains, rebuilding the Madison Spring Hut as a member of the Appalachian Mountain Clubs Construction Crew. After working in property and facility Maintenance in the Mt. Washington Valley, he's returned to his home state as the Maintenance and Transportation Supervisor at Baxter State Park.
Liz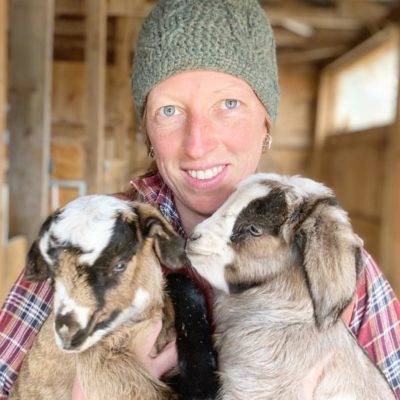 Liz was raised in Southern New Hampshire and attended UNH where she was a long-distance runner. After college, she began working in sports medicine before transitioning to the world of adaptive sports and special education. Always an athlete, she routinely ventured to the Whites for skiing, rock and ice climbing, and whitewater kayaking. She met Keith and immediately offered to help him lift walls for an addition he was building and hasn't shied from a task since. She now takes care of the farm full time and is chief medical attendant for the animals and Keith alike.
Ellie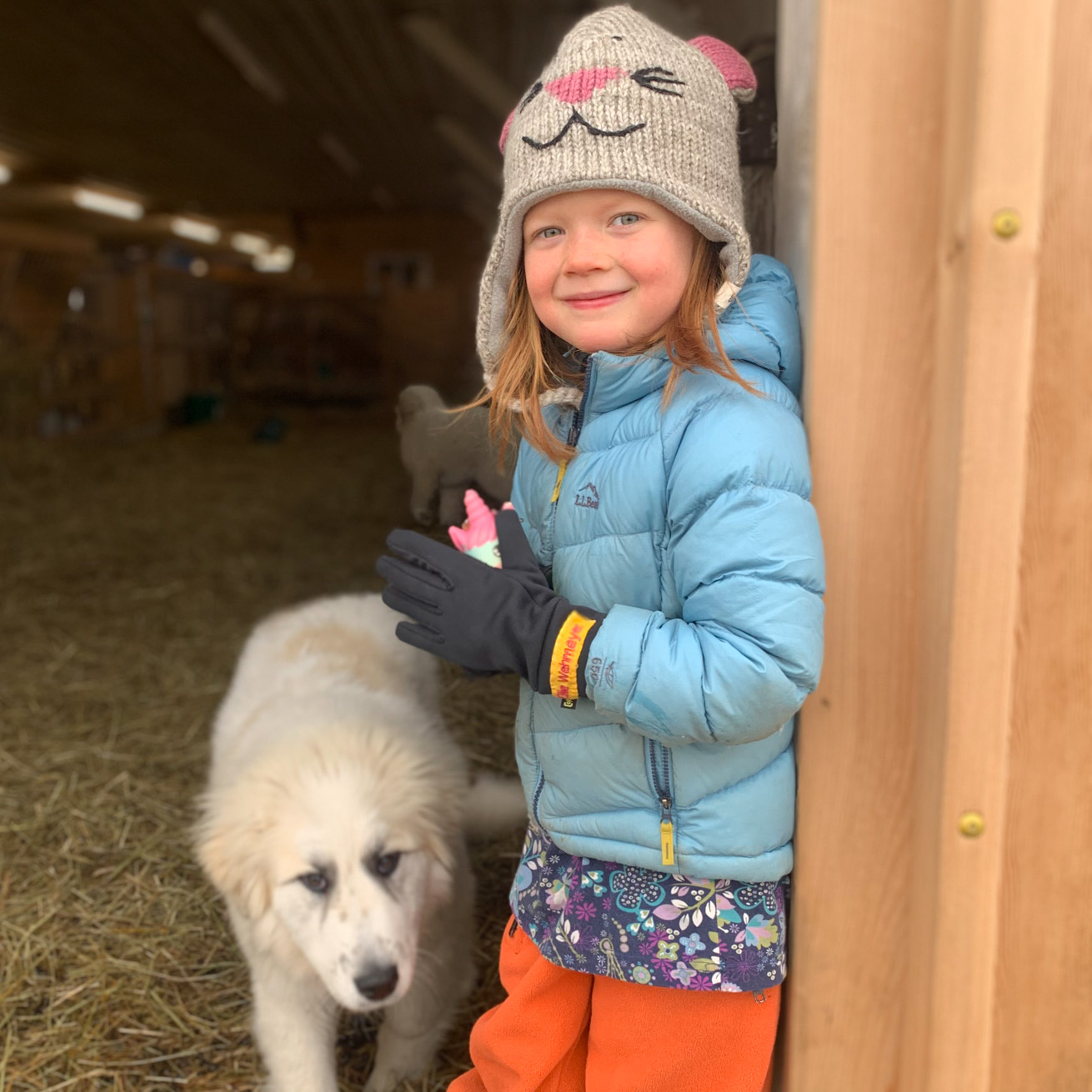 Ellie attended her first goat birth before she was a year old, and has been in the barn during kidding season every year since. Chief produce tester, namer of goats, chaser of pigs, and tractor co-pilot she has somehow yet to be zapped by an electric fence.
Off the Farm, the family is avid skiers, canoe trekkers, and whitewater boaters. They were engaged in their kayaks on the Rapid River in Western Maine. Long-distance canoe trips are an annual necessity for the family. Once as a duo and four times as a trio they have paddled the 90-plus mile length of the Allagash Wildnerness Waterway.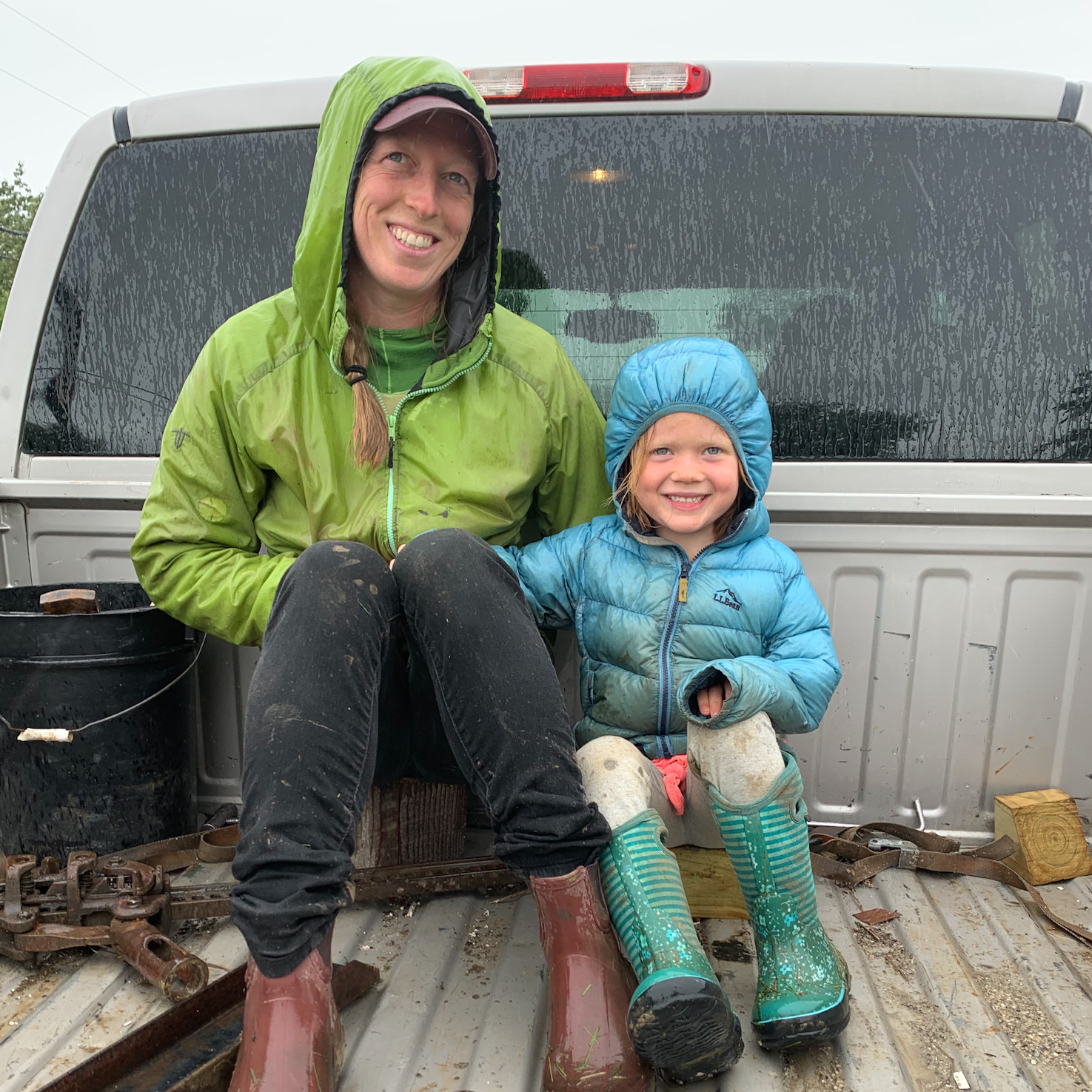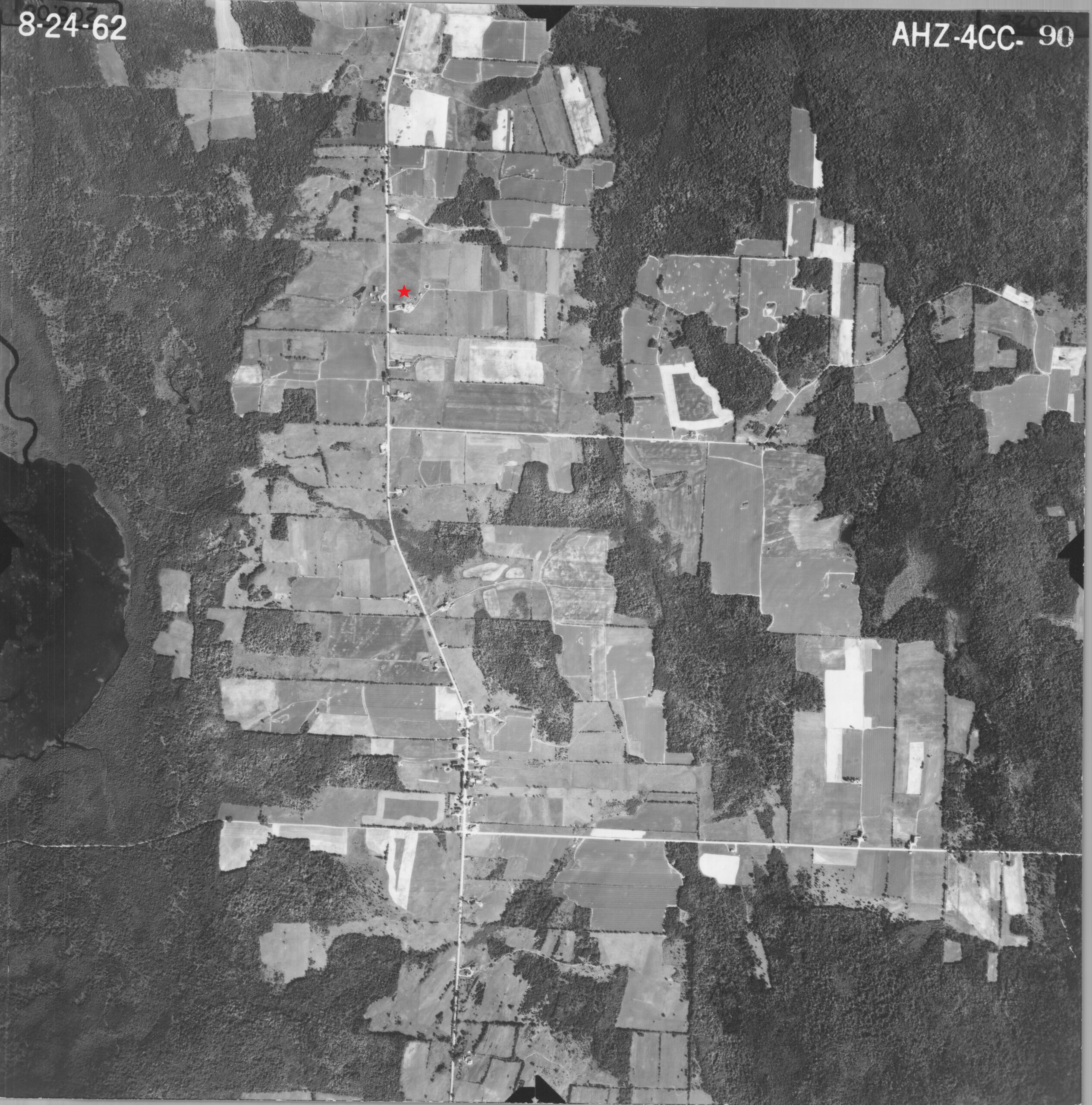 The Farm
Know as the Sleeper Farm from 1959 until 1980, the property has historically been a dairy farm. Keep Ridge Farm sits along Benedicta Rd. with a beautiful view of Katahdin.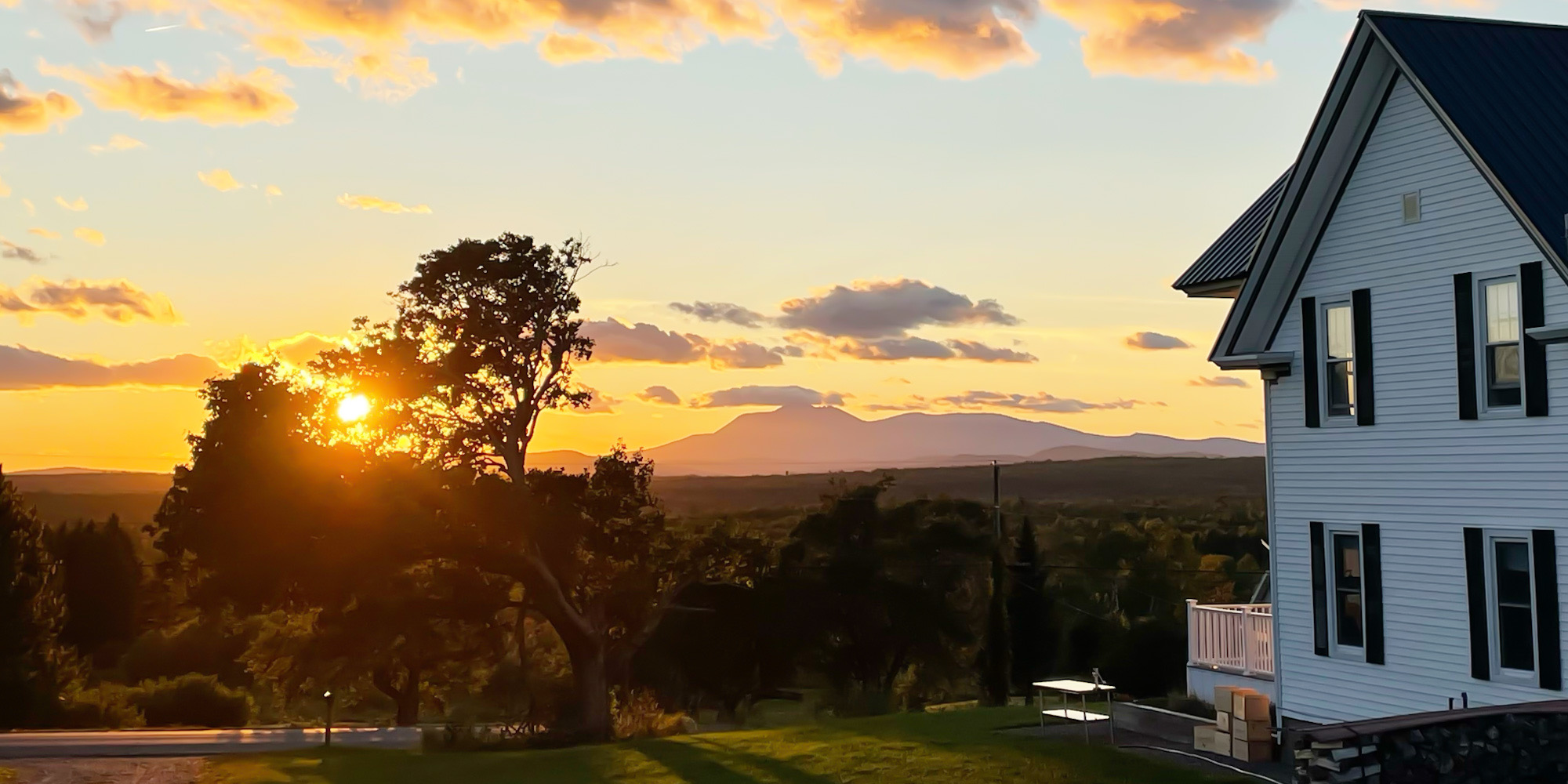 So why Keep Ridge? The Keep Ridge runs up the Eastern flank of Katahdin, stretching down from its Pamola Peak towards Roaring Brook. The ridge is named after Reverend Marcus Keep who cut the first trail up Katahdin's East side from Katahdin Lake and accessed from Stacyville. Keep led what is thought to be the first hiking party across the Knife Edge in 1847. In 1849 he guided the first women's hike up Katahdin with his wife, Hannah Taylor, who he had married the same year.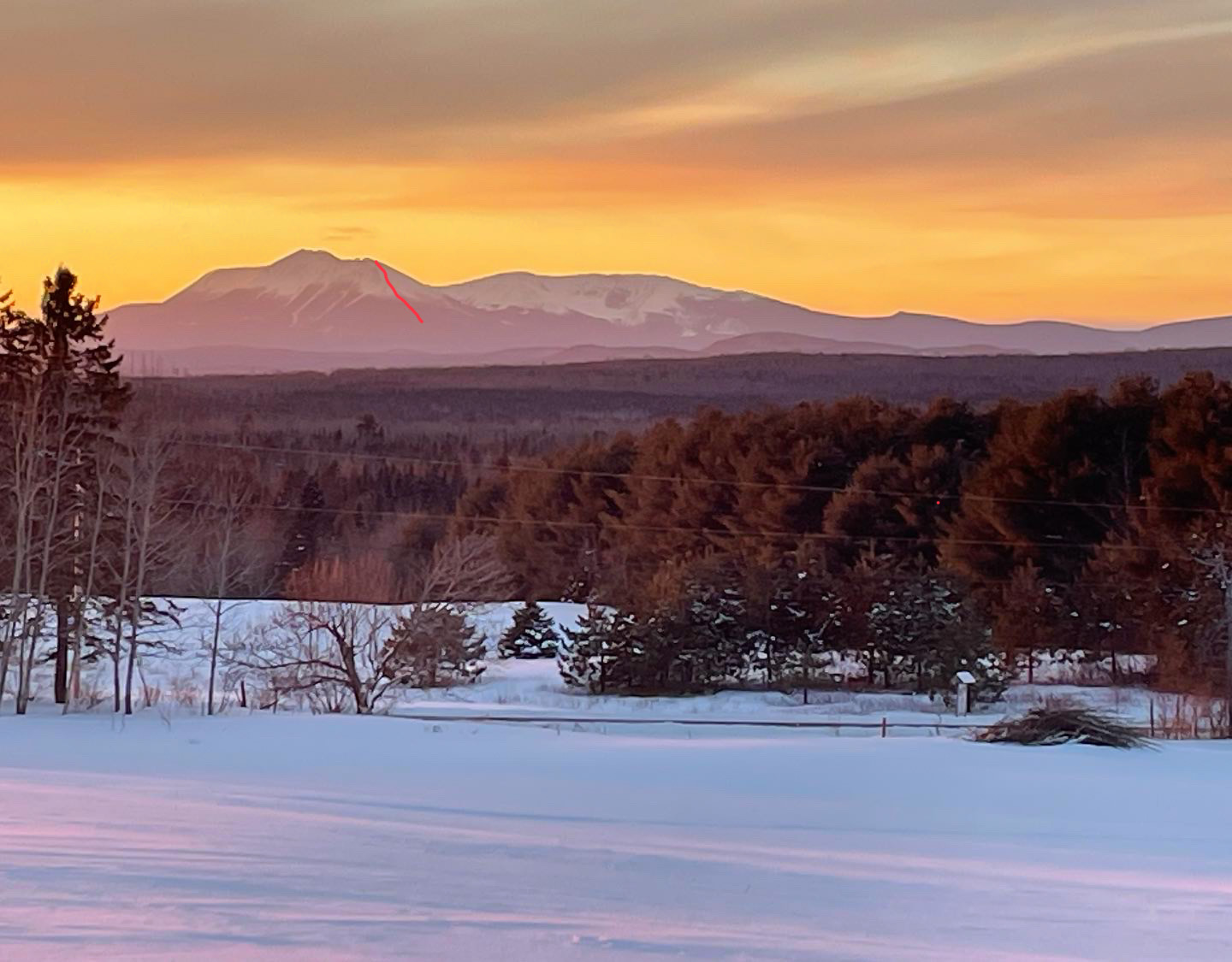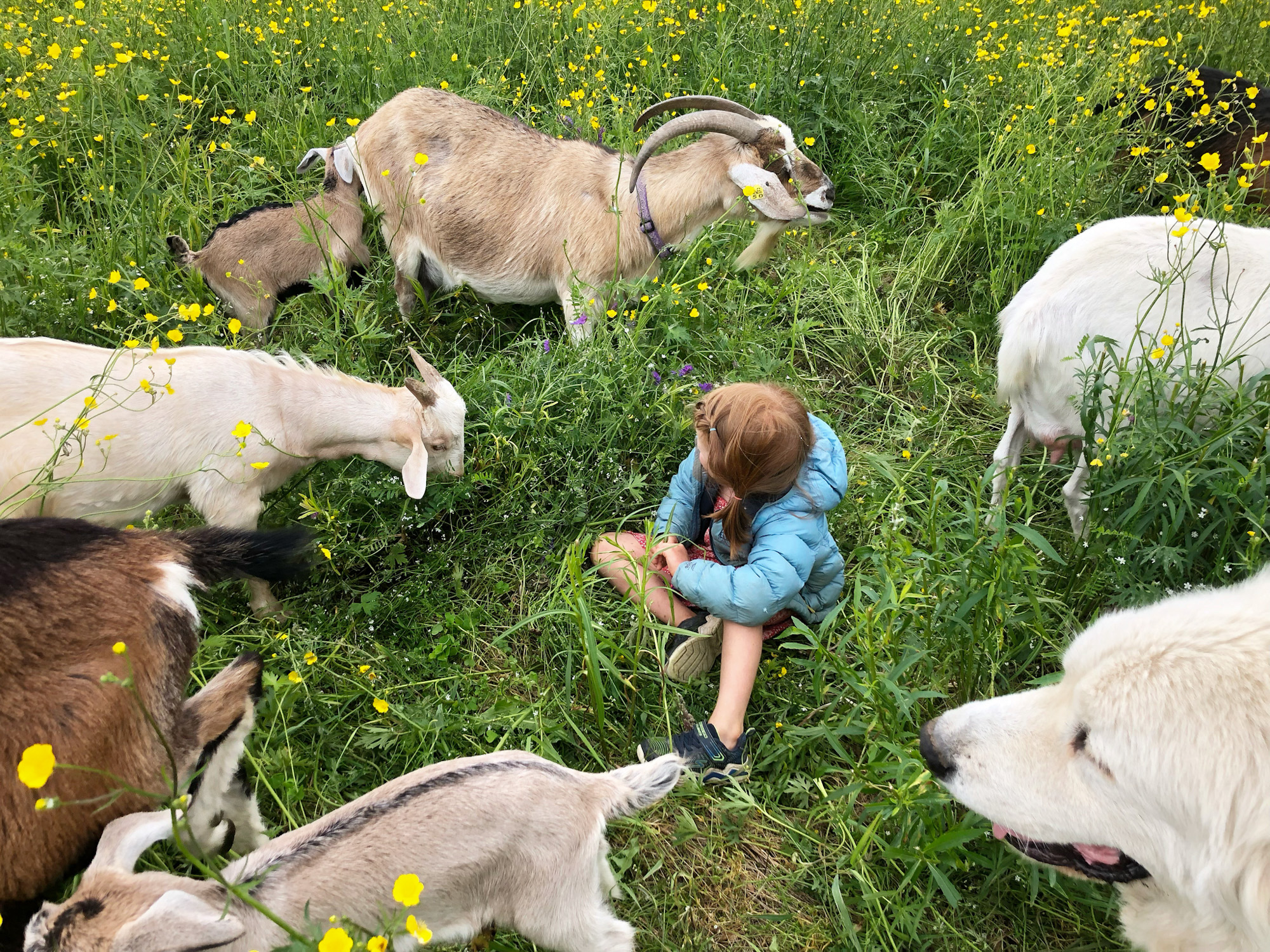 The Animals
Guardians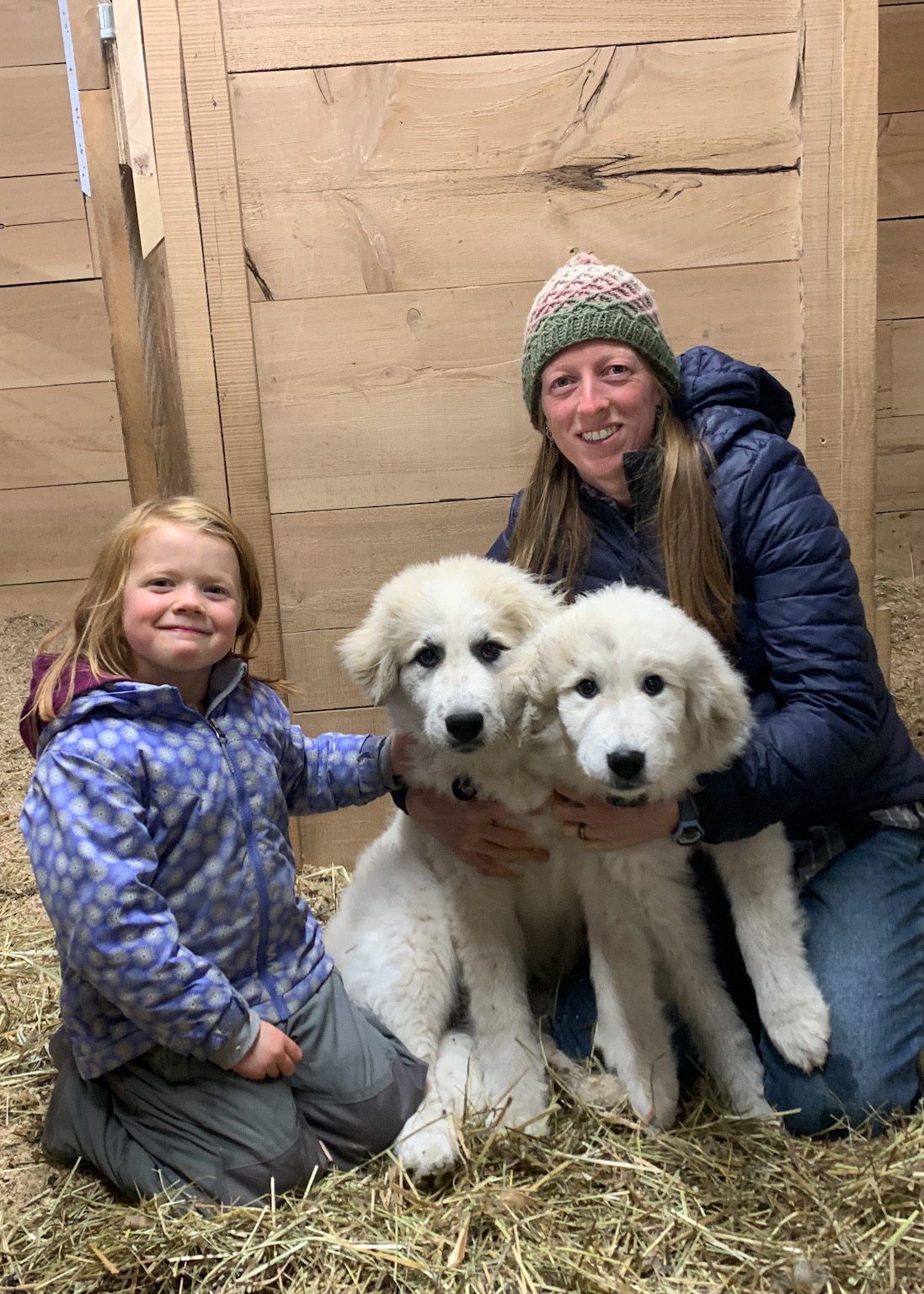 Tuffi and Benni are our Great Pyrenees livestock guardian dogs (LGD). They live out with the animals full time keeping everyone safe and us endlessly entertained. Our LGDs are integral part of the farm, keeping predators like coyotes, fox, hawks and eagles away, which keeps both the farm and the predators safe.
Goats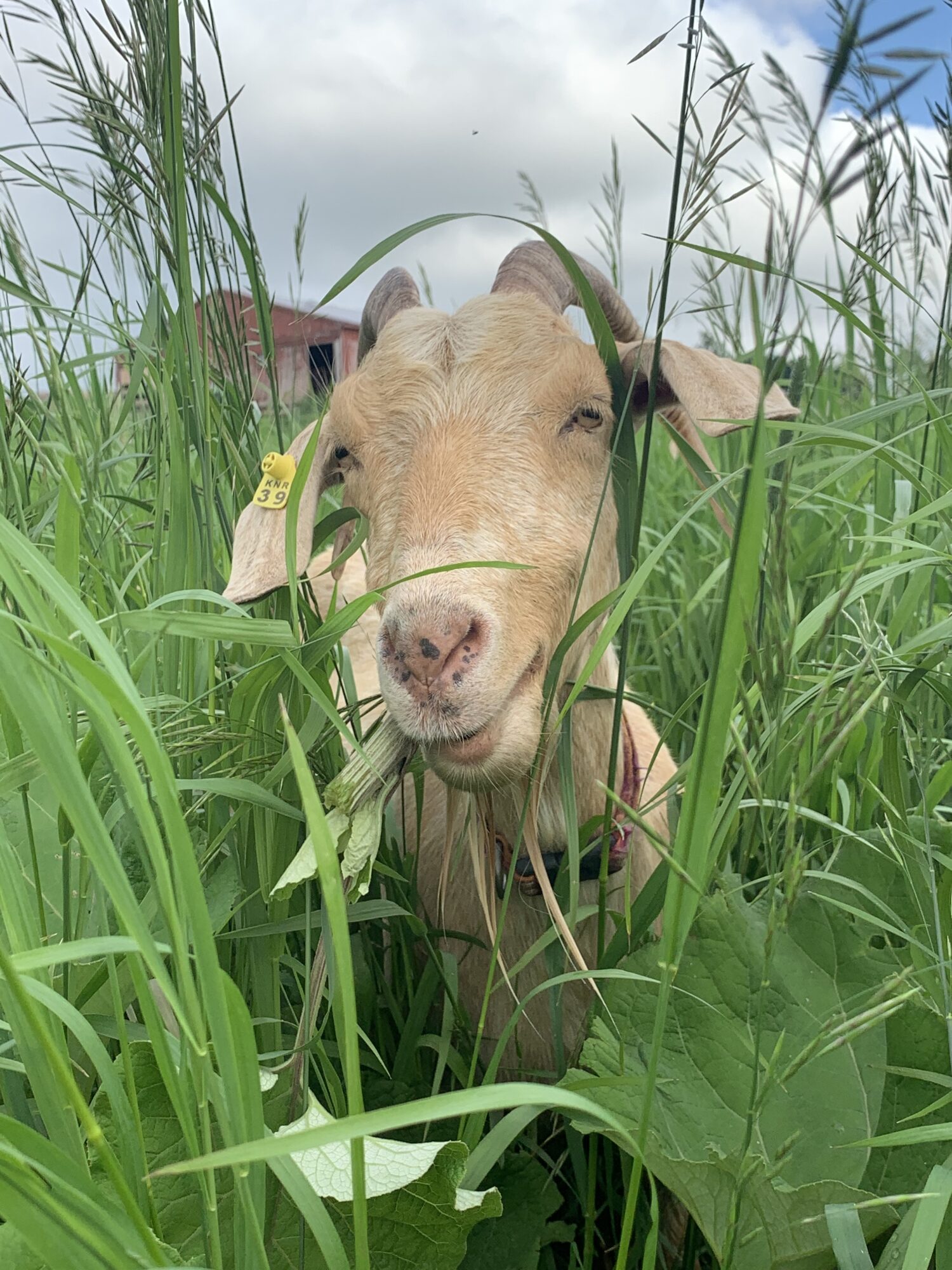 Our flock started with three Kiko doelings from Stanton Brook Farm in Sandwich, NH. We chose Kikos due to the hardiness compared to other meat breeds. High parasite resistance, hearty kids, good mothering skills, and other traits mean Kikos require less farmer intervention than many other goats breeds. We've added a few alpine goats from Icehouse Farm in Goshen, Vt. to bring added dairy traits into our flock. Our goats are raised on pasture only throughout the growing season, and get local hay and minimal grain throughout the winter months.
Pigs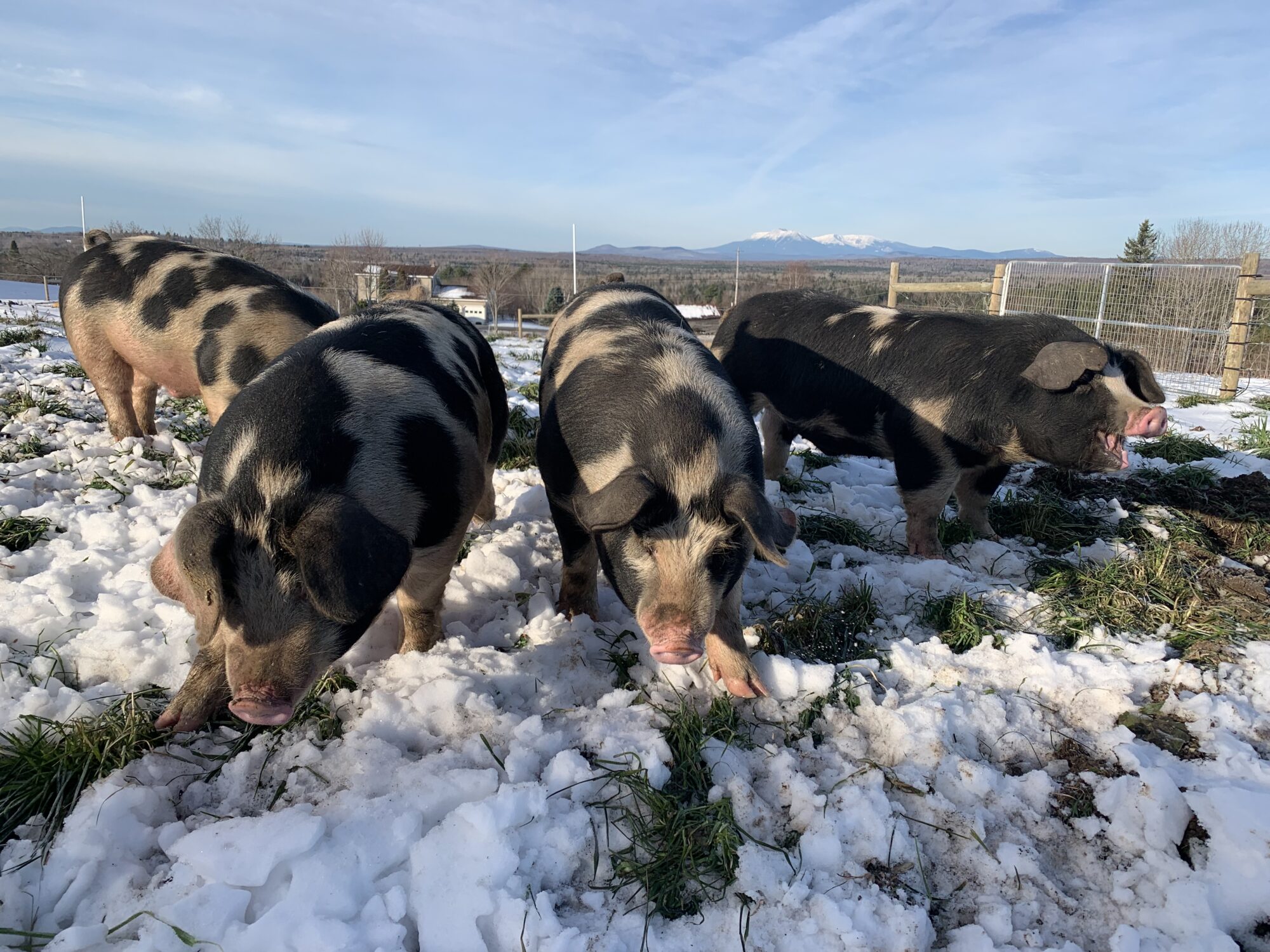 For years we've gotten piglets from Steve Akerstrom in Gilmanton, N.H. and raised them to sell as Pork shares. We give the pigs ample space to roam and forage while feeding them Poulin grain. The only supplemental feed they get is from the farm (no day-old doughnuts or other cheap filler).
Chickens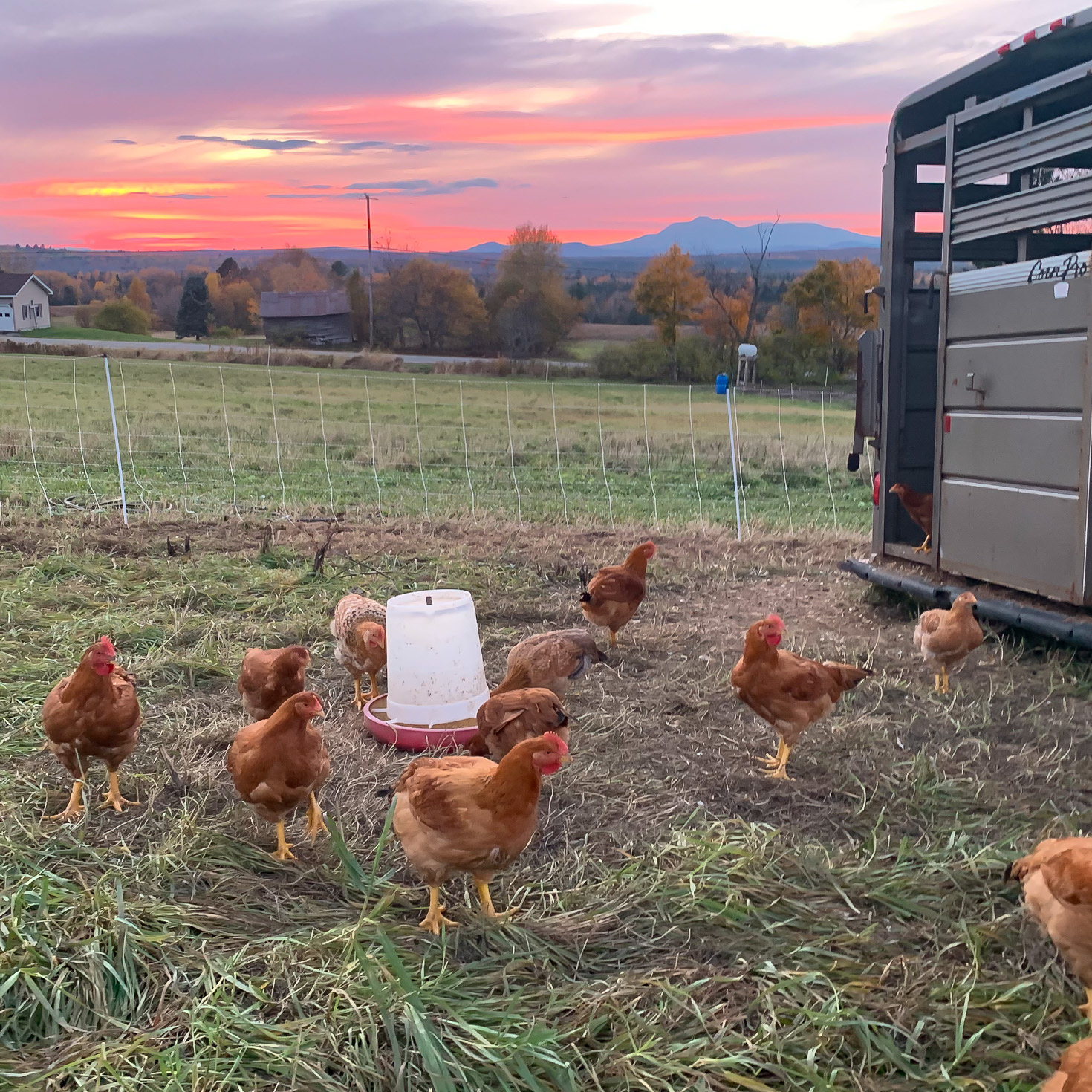 Along with a flock of egg layers, we raise Freedom Ranger chickens during the growing season. Freedom Rangers are slower growing than the white Cornish X variety preferred by many small farm chicken producers, but they are active and hardy as well. Our meat chickens get ample space to forage in our pastures along with Poulin Grain.